My old friend (and former neighbor) Tim Fall moved with his family from Venice Beach to Oklahoma City a few years ago. Tim and I did a lot of writing and producing together (still do) and he was an actor on a lot of shows (some of which I produced.)
So this Memorial Day weekend, in between working on a script together, we're driving from my house to his house in Oklahoma City. There was some stuff I was keeping in my garage, but really it's just an excuse for a road trip.
And a road trip in anywhere in Southern California isn't complete without a stop here:
In-n-Out Burger is simply the finest fast-food burger in America. And that's actually saying something, because America has some excellent fast-food burgers, as my friend John T. Edge has convincingly proven.
What I like most about In-n-Out — and America in general — are two things:
1. Each cup has its own little biblical message printed on the lower rim. Which is wonderfully American. The family that owns In-n-Out has a lot of strong, positive faith, and they want to share it. John 3:16. So cool. Can't imagine that happening anywhere else.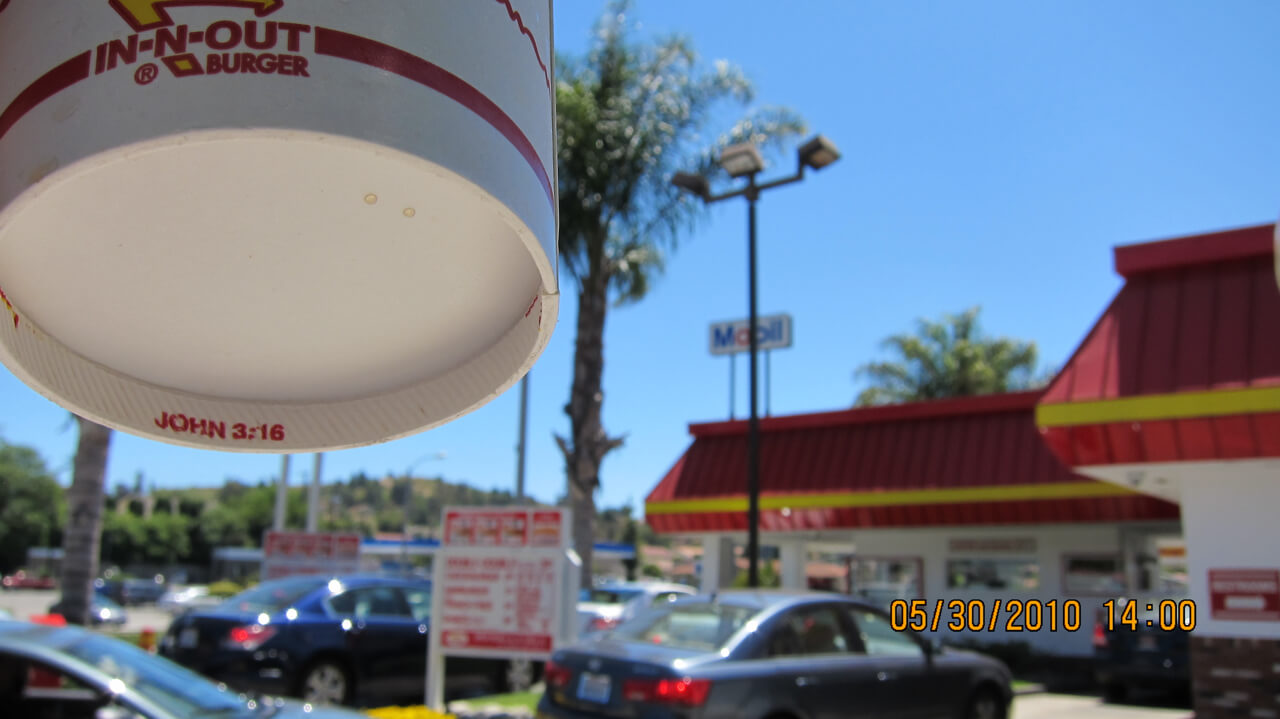 And 2. Free refills. In America, we expect, and get, free refills. In fast-food places, they give you a giant cup and point you to the fountain. In a lot of restaurants, they walk around the place with giant pitchers of iced tea or whatever and fill 'er up. I especially love when they have to pour from the side of the pitcher. Because we're Americans, and we love ice. In France, for instance, there's no such thing as the free refill. They measure drinks out by the centiliter.
I'm really only half-joking, here. There's something about our sense of abundance, of generosity, of plenty, that's worth thinking about, on this Memorial Day. There's a reason life in America can be such joyful fun.
Of course, we can go too far. Next stop: Las Vegas,