[See UPDATE at bottom of page]
I'm able to post only intermittently but wanted to get you up to speed on the escalation here between Hamas and Israel.
As you know if you listen to The Levy & Counsell Show (and I hope you do, and that that plug is not too shameless in this context), Hamas has recently kicked up its persistent rocket campaign against the civilian population of southern Israel. The Gaza Strip has been used as a giant launching pad by Hamas since Israel evacuated in 2005, with more than 1 million Israelis living under perpetual threat of rocket attack. More than 8,000 rockets have been launched by Hamas into Israel since the evacuation — 630 last year alone, and 183 in the month of October.
Yesterday (Wednesday), Hamas paid a price for the escalation. At about 4:00 pm, Israel used a surgical air strike to take out Ahmed Jabari, described by some as "Netanyahu's Bin Laden" (with the attendant political implications for his assassination) and widely considered the number-one most wanted Hamas terrorist. Jabari was, among other things, the mastermind behind the abduction of Gilad Shalit, overseeing both Shalit's abduction and his captivity. He is credited with putting Hamas's terrorism industry on a much more professional footing.
Here is video, released by the IDF, of the assassination:
As the afternoon progressed, rocket fire continued from Gaza into Israel, and the Israeli Navy struck terror sites within the Strip. 
Last night, the IDF published an aerial photograph of a Fajr-5 long-range rocket launch site inside the Gaza Strip. As you'll observe, the site is between a mosque, a playground, a gas station, and a factory, and is less than 100 yards from any of those locations. Here's the photo: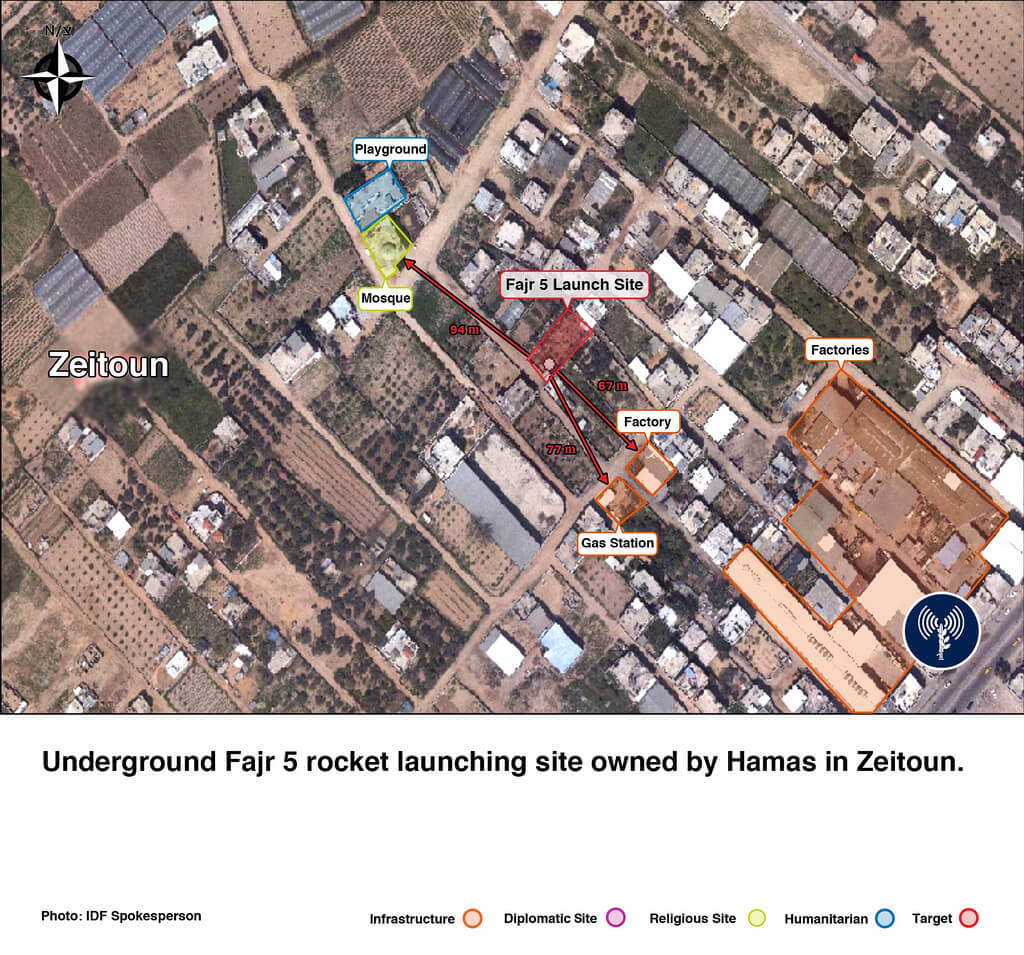 By the time yesterday ended, 47 Palestinian rockets had landed inside civilian areas in Israel, with another 27 intercepted by the Iron Dome defense system. The IDF took out dozens of medium-range (i.e., up to 40 km) underground rocket launching sites and other weapons storage facilities in the Strip, and by this morning, was reporting it had struck more than 100 "terror targets" in Gaza. Those sites included long-range rocket launching sites as well as teams in the act of preparing rockets for launch. 
At 7:20 this morning, the IDF dropped a warning leaflet over several areas in the Gaza strip, advising local inhabitants to get out of the way.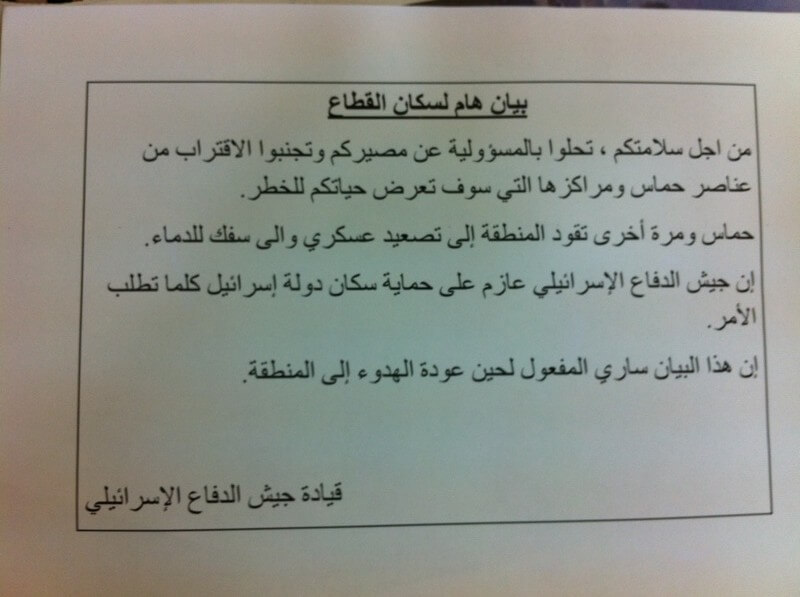 The leaflet is translated by the IDF as follows: 
"Important announcement for the residents of the Gaza Strip:
For your own safety, take responsibility for yourselves and avoid being present in the vicinity of Hamas operatives and facilities and those of other terror organizations that pose a risk to your safety.
Hamas is once again dragging the region to violence and bloodshed. The IDF is determined to defend the residents of the State of Israel. This announcement is valid until quiet is restored to the region. Israel Defense Forces Command."
Hamas has labeled the Jabari assassination "a declaration of war," but Hamas has obviously been at war with us a lot longer than 18 hours. Mahmoud Abbas, too, is beside himself over the Israeli aggression. 
Stay tuned.
UPDATE: It's 10 AM here, and I'm seeing reports that we have three civilian dead on our side: three killed and four injured in a "direct hit on a house" in the southern town of Kiryat Malachi, which is 18 miles north of the Gaza Strip. Now Lebanon reports as follows:
Police said at least 130 rockets had been fired since Israel killed Hamas military chief Ahmed Jaabari in a strike on a car in Gaza City on Wednesday afternoon.

"All the major cities in southern Israel were hit, and the majority of the more serious damage was in Beersheva," police spokesperson Micky Rosenfeld told AFP, saying police had raised the level of alert across Israel "in order to deal with the possibility of terror attacks."

Schools within 40 kilometers (24 miles) of Gaza were closed, and those living within seven kilometers (four miles) of the strip had been told not to go to work, he said. "It's a pretty serious situation."

In Gaza, Palestinian medics said three Hamas militants were killed in an early morning strike near the southern city of Khan Yunis, raising to 11 the number of Palestinians killed since the hit on Jaabari at around 1400 GMT on Wednesday.

"Eleven people have been killed and 115 people injured," he told AFP.

Among the dead were five Hamas militants, two children, a woman and an elderly man, he said. The identities of the other two were not immediately clear.
More here from the Jerusalem Post.
FURTHER UPDATE: This afternoon, the Knesset authorized the call-up of reserves for immediate duty in the south. The number of reservists instructed to report has not yet been released.