Last October in The Transom, I wrote a short observation on why I thought President Obama would be reelected. My essential thesis was that none of the candidates were strong enough (at the time, the national polls had Romney/Cain/Perry in the lead); that Obama's standing in swing states was strengthening; that the economy, while not mounting a huge comeback, would avoid another major downturn despite Europe's travails; and that Independents who had soured on Obama would slowly come back to the fold. I later added one more point: that a rebuke within the Supreme Court decision this Spring against the individual mandate would actually help Obama in November by deflating some of the opposition to one of the worst aspects of his signature domestic policy. I gave him 60-40 odds of victory.
At the time, this was a more pessimistic view to take – I had many subscribers write me in disagreement, and several other responses online for why I was wrong. But let's assume, for the sake of argument, that this is a possible, even likely, result in November. It raises a question, which I'd ask you all to consider today: if Republicans are going to mount a losing effort for the presidency in 2012, who would be the best person to do it with?
How you answer may depend a lot on what you want the party to look like after November. Will it be one that is more conservative? More pragmatic? What lessons do you want it to take from this experience? But the more prominent one in my mind is: who, in a losing effort, would do the most to ensure the advance of the election of those who favor fiscal sanity and human liberty in the Senate and the House?
This is hard question to answer. On the one hand, I'm mindful of what David Frum outlined around the same time – his four scenarios for the election's outcome were, in order of his preference:
Mitt Romney is nominated, Romney is elected (his favored outcome)
A tea party Republican is nominated and loses (a "tragic waste")
A tea party Republican is nominated and wins (a "formula for crisis")
Romney is nominated, Romney loses ("ugly, ominous possibilities")
I rarely agree with David Frum, but his analysis here strikes me as correct – though I would use conservative, rather than tea party, to describe the backing for the alternative not Romney candidate (tea party support is a smaller group with a loud voice). The most likely outcome of the primary now appears to be a mortally wounded Romney stumbling into the jaws of the Obama machine having been rendered, by his own hand for the most part, an unacceptable candidate to many Independents and with sinking support in key states. A rebound is not impossible but seems unlikely.
Yet that's not the only option for Republicans. They could also choose to nominate Rick Santorum – who certainly is surprising me for his ability to catch hold in the Midwest in particular with an organization made up of duct tape and bits of twine; or, less likely, Newt Gingrich; or even less likely, a brokered convention candidate (which is still more likely than the winless Ron Paul).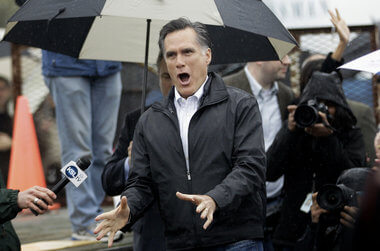 The argument for losing with Romney is a simple one: he'll spend his own money more than any other candidate, letting donor support migrate down to the states (which it may be doing already), and he'll build an organization on a national scale and compete everywhere. For Santorum, the argument is less strong – it probably comes down to the idea that he'd perform the best in Midwestern states, which include key Senate elections in Wisconsin, Missouri, and Michigan. Throughout his career and even during this race, Gingrich has stressed the importance of team-building and getting the right Senators elected – the argument for him would be that even with a divisive individual at the top of the ticket, this emphasis on presenting a team to the people united around a few popular ideas would benefit legislative elections as it did with the Contract with America.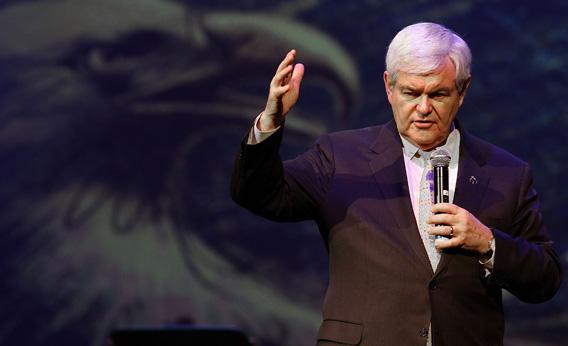 I'm honestly not sure who would be better to lose with when it comes to the Senate. But I do have a stronger opinion about what would happen in the intra-Republican blame game after a loss. A loss by Gingrich would be blamed on foolish tea partiers and conservatives who fell in love with the idea of him bringing the oratorical sledgehammer down on Barack Obama during a debate. A loss by Santorum would be blamed on crazed bans of puritanical Bible-thumpers, evangelicals and Catholics who still run things on the right from the left's perspective. And a loss by Romney – following as it does a loss by the last "electable" candidate, John McCain – would be blamed on the Republican establishment and moderates in the party, resulting in a backlash against the leadership hierarchy to a degree unfamiliar to the modern era of politics.
This begs another question: if conservatives would be blamed for losing with Gingrich, social conservatives particularly for losing with Santorum, and moderates for losing with Romney… which would be best for the conservative movement? Is it better to go into 2012 with a flawed candidate who nonetheless argues for conservative ideology? Or is it better to put forward someone whose loss will not be seen as a repudiation of conservatism?
One last point: Jonathan Last at the Weekly Standard and a few others have argued that if Romney again loses the nomination battle this year, he will return in 2016 to run again. I can't see that happening, but if it was a likely outcome, maybe this is the real question conservatives need to answer: would it be better to get this Mitt Romney problem out of our system once and for all?