Strength comes from within, as does indifference. I remember this hapless kid in basic training, and his name was Cromwell, I think.  Kind of quiet and withdrawn, but friendly just the same. Only problem was he couldn't march. Not for love, nor money, nor chow, and he kept forgetting to lead with his left foot when the drill instructor called Forward March. Sure as sun up, he'd lead with the right foot, and then try to do a skip-step to get in sync with the rest of us. But it never quite worked, so he would keep trying to skip-step, and we all looked like a formation of troops marching flank around Dorothy skipping her way to Oz.  
"You're bouncing around like an [expletive] cork in water!," roared the drill sergeant, who finally put a rock in Cromwell's left hand and told him to always lead with the side that held the rock. That worked pretty well until the instructor called To The Rear March, and everyone turned on their heel and began marching in the opposite direction except Cromwell, of course, who went crashing into the formation like a bowling ball into the pins. But the kid never gave up, never grew indifferent. He had a strong heart, and he kept at it until he eventually got the hang of it. Just a small lesson, I suppose, but one that played out repeatedly in larger ways.  
One of the enduring lessons of military service is that the sheer force of will can overcome seemingly insurmountable obstacles. When the body gives out, there are as yet untapped reserves for those with the will to dig them out, ignore or even embrace the pain, and press on. But I must admit that those reserves seemed to be in short supply just a few days ago. 
Happily put away, high up in a magnificent Freightliner that looks like it was dipped in military regalia, I confess to having felt like an ambassador of general goodwill to all and a reminder that freedom comes at a high price. But then, it seemed that a majority of our countrymen decided that they don't much want to be free, but rather wish to be taken care of by their benevolent masters in Washington. This splendid rolling reminder suddenly seemed like more of a relic than anything else, an outdated throwback to another time when people believed they were sovereign. "All gave some, some gave all," …for what? To secure the blessings of the individual mandate, with free Obama Phones and food stamps for all? No thanks, I'll just wait over here until everyone comes to their senses. 
Then, mother nature intervened with a nasty storm that prevented me from moving the truck for awhile. It was just as well, as I would have been tempted to move it into a ditch and take a bus back to Louisiana, such was my despair. In any event, my destination was New Jersey, and after what that state had just done electorally, I was even less enthusiastic about visiting them than usual.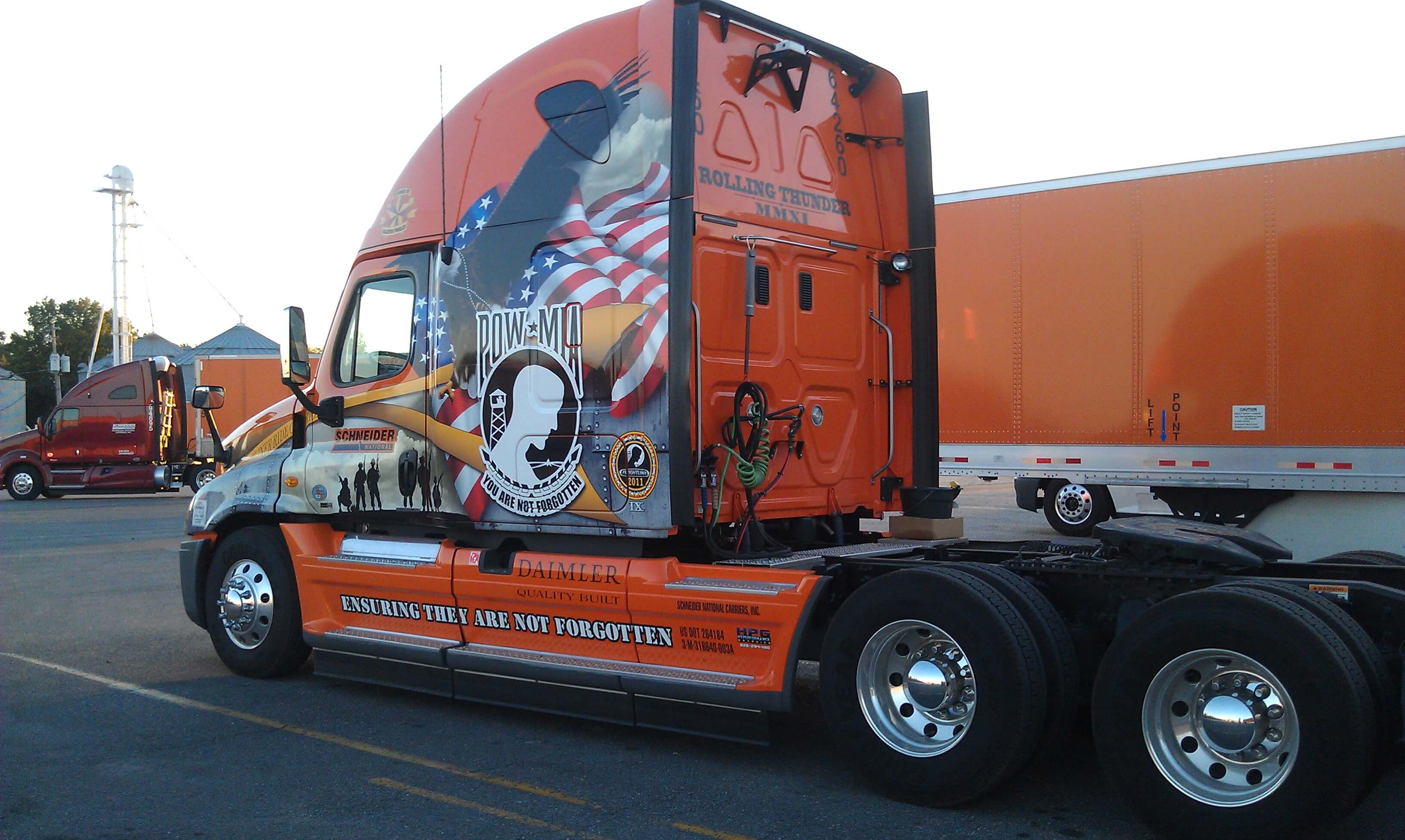 But I've noticed something. This truck moves people to great emotion. The massive flags on the sides, the POW/MIA displays on the sides and the hood, the silhouettes of soldiers, the memoriam statements on the fenders … they seem to reach deep into a person's heart. Just a couple of weeks ago, in Laredo, a FedEx truck parked next to mine at a warehouse and the driver got out and began aiming his camera phone toward my truck (I'm sure it's just me, but it does seem that she smiles when people take pictures.)  I got out to meet the gentleman, and to also keep from being a part of the photo. A Marine, this gentleman served in Vietnam. "We didn't see things like this when we came home," he said. "Well, take a good look now sir, because this is for you," I answered, and then shook his hand and welcomed him home.
In Houston, just a week ago, while they were loading me up with storm relief supplies for the Northeast, a fork lift driver drove his fork lift out of the warehouse and into the parking lot to have a gander at the truck. Of course the camera came out, which was my signal to step out and meet him. He was Army, and a Desert Storm Vet. He walked up close to get a photo of the memoriam statement, but then asked if I would take the photo for him. His eyes had teared up a bit and he couldn't see good. "What they did," his voice wavered, "…to those people in Benghazi."  Struggling to steady his emotions, he practically whispered, "That was WRONG! We don't leave our people like that!"  "Yes sir," I said, "I understand." What else is there to say? After Vietnam, we swore we wouldn't do that kind of thing again, but an oath won't get you a cup of coffee these days. 
I thought about him on election night. I've thought about our troops in Afghanistan and across the globe. They deserve better than a half-hearted pat on the on the back and a parade one day a year. And our Founding principles deserve more than a shrug while we retreat into the darkness of serfdom. And so I've determined to do now as I learned to do those many years ago. Dig deep. Conviction, knowledge, faith, and a good dose of humor … those are the reserves from which to draw.It's time to  represent the best of us, the best way possible, and that includes this beautiful traveling banner. At the end of each day, as I polish the chrome and shine my baby up, I remember those who are serving  so far from home, doing heroic work at risk of life and limb, but with a hole in their heart as they miss their wives, husbands, children, and parents.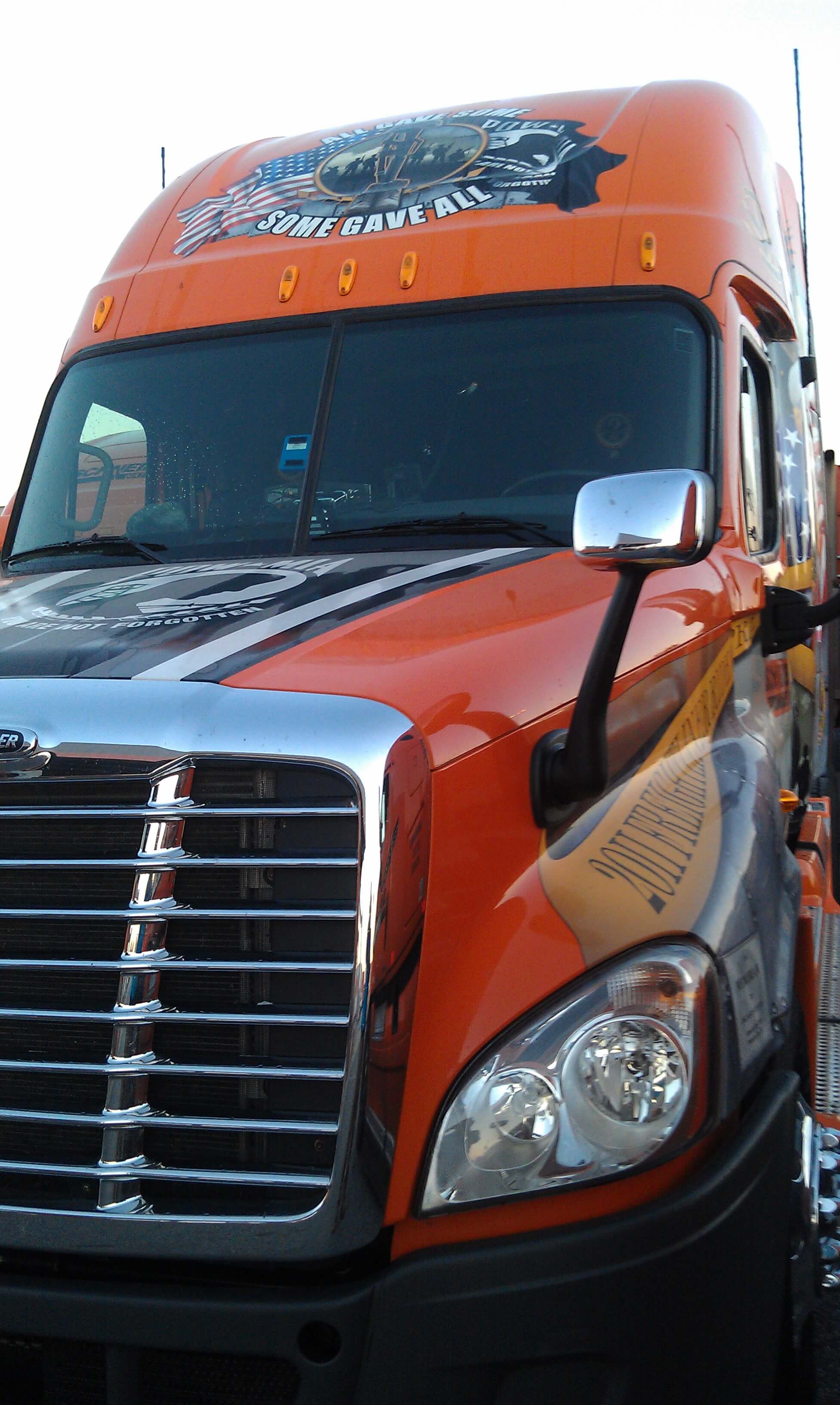 Polishing the wheels to a mirror finish, I remember the immaculate precision with which members of our honor guard carry our dead to their final rest. Shining the chrome mirror covers, I look up to see the words "In Honor of Gold Star Families" over the driver and passenger doors. They have it the hardest, ya know. We speak of sacrifice, but we know nothing, nothing at all of the pain and sacrifice they carry every day of their lives. Cleaning and polishing the front grill, I see the imposing visage the vehicle strikes and, in its own way, it recalls the teeth on the front of the 23rd Fighter Wing's A-10s, or the death delivering vision of the AC-130 at work, the battleships, the tanks, a Marine about to make a house call on the enemy, and even old Cromwell himself marching proudly and flawlessly at graduation.
Though the country may go to hell, and even as we continue the fight for freedom here at home, I owe it to those whose fidelity is never in question to represent them in the best way humanly possible. It may be a relic to some, but the Ride of Pride will continue to be a spotless and shining example of the best of America and, yes, the truly exceptional nature of free people. To all Veterans, thank you for your service.  And to all who currently serve, God bless you and keep you. And truly, thank you.